Cambridge Elementary is a Title 1 school located in Concord, CA. The student population of about 680 is from predominantly low income families and includes a high percentage of English learners. Some students have faced violent events within the neighborhood. Yet all share a common purpose to come to school every day and fulfill their dream of an education. Cambridge Elementary centers around the belief that students and staff members should DREAM, CHALLENGE, and LEAD. Their vision is to create an environment where they work together as a community of learners – inspiring and empowering all students within a safe, supportive environment and develop 21st Century academic and interpersonal skills. They believe that working with Project Color Corps will not only teach their students about art, color, and design – but also teach them about a commitment to work together as a community to build something great. A community where parents and students want to be, a community with a positive morale, and a place to escape the negativity that surrounds them. We are proud to support their efforts through color and paint!


The Project at Cambridge
The project was designed by Gensler Oakland, led by Fabiola Hernandez and Sergio Mondragon – after listening to what the students wanted through their words and drawings. The students learned about the power of color from Laura Guido-Clark's color seminar – and the power their voices have on voting day, when they chose the theme that most represented what they said.
STELLAR FUN was the winner!
We are grateful to the fundraising efforts of the IIDA East Bay Chapter, Carnegie, Ultrafrabrics and CRI, and the sponsorship of Kelly Moore to make this project happen – along with our painter and muralist partners, and volunteers from the school and design communities.
Color Seminar and Voting Day!
Volunteers Make it Happen
We were overwhelmed by the turn out from the Cambridge and design communities to support this project.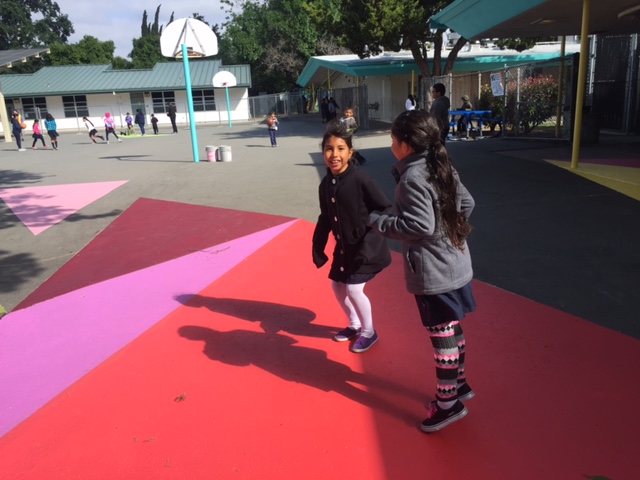 Generous Sponsor Support
KELLY-MOORE PAINTS
IIDA (EBCC Design in Motion charity event)
CARNEGIE
ULTRAFABRICS
CRI
Contributing Vendors
Varsity Painting
Bristle Bros.
Emma Blanco
Nick Collins
Photo Credits
"The Results" - Jennifer Chaney